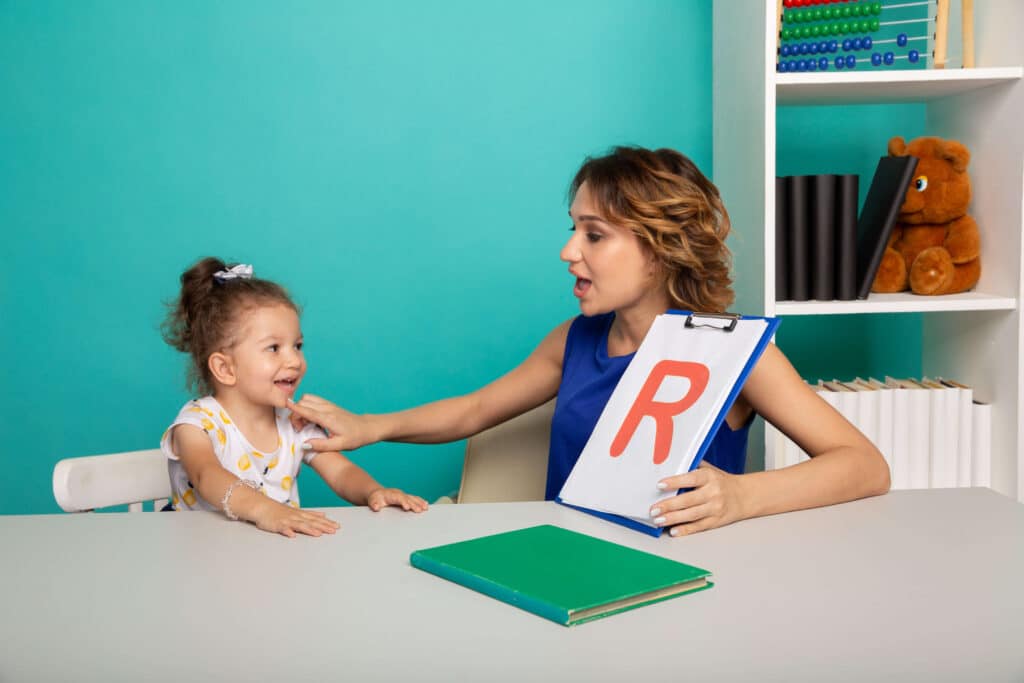 Navigating the world of speech therapy for your child can be a confusing process, especially when it's time for you to choose the right speech-language pathologist. This is undoubtedly one of the most critical decisions you will need to make. Finding the best fit for your child and your family can improve your therapy experience and results tremendously.
When you make that final decision, you should feel confident that: (1) you are getting the best expertise; and (2) your therapist genuinely cares about helping your child to become their best selves. If you've already started the search, you probably have noticed that there are quite a few options available to you. However, there are also limiting factors that you must take into consideration. 
In this article we break down the top six factors to weigh in choosing the right speech-language pathologist.  
1. Look for the Right Expertise and Experience
Speech and Language Therapy is a wide field with many specialties and disciplines. It is essential to look for a speech-language pathologist who specializes in treating children. This does not mean that those treating both adults and children are incompetent, but it is a major plus to find a therapist who has dedicated their time to building skills specifically to work with children. 
If your child has a development disorder such as autism or you already have a diagnosis of the specific problem your child is struggling with, it would be wise to find a therapist with a specialty and experience in that area. The right therapist for your child will have extensive knowledge of the speech or language disorder your child is dealing with. 
In addition to the right expertise, you should also look for the number of years of experience and any formal certifications/credentials. You most certainly want to find a qualified therapist. The ASHA is the official provider of certification for speech-language pathologists. You can view their list of certified therapists online.
 2. Choose a Therapist Who is Family-oriented and Provides Parent Support
It has been proven that the biggest determining factor for successful speech therapy is family/parental involvement. You need a therapist who understands this and makes an extra effort to provide the necessary support for you as a parent. 
When you have that first conversation, ask about parent support or at-home programs that are offered. You can also take a look at their website and social media to see if there is any special effort made to provide additional help and resources for parents. 
Your child's therapist should be easy to access and connect with. You should feel like you share a common goal – helping your child thrive.
3. Pick a Therapist Who is a Good Fit for Your Family
You want a therapist who understands your family's unique needs and provides service customized to those needs. Many people tend to overlook how impactful it can be to have a therapist who is culturally and ethnically similar to you and your family. This would mean they have a deep understanding of your family's cultural values and lifestyle, and they can better work with you to create the right therapy plan for your child. Your child should feel at ease and comfortable being themselves. 
  At Global Speech and Rehab, we are deliberate about being an inclusive, family-first practice where children and families from diverse backgrounds can feel catered to.
4. Look for Flexibility, Convenience, and Accessibility
Making therapy work with your already packed schedule can be challenging. When evaluating therapists, you should always be on the lookout for flexibility, accessibility, and convenience in the packages they offer. 
You want to find a therapist who works with you, not against you. Check if they offer both in-person and online therapy options. Online therapy allows your child to get therapy from the comfort of their own homes without the hassle of travelling. This allows you to participate more in the therapy, save time and money, and be a better fit for your schedule.
If you are opting for the in-person option…. Location, location, location is crucial. Speech therapists have a defined geographical coverage area where they are certified to work. For example, Global Speech and Rehab Services provides speech-language therapy for kids in the Miami area. If you must travel to the therapy office at least once per week, make sure the therapy office is at an easily accessible location.  
You should also consider the ease of setting up an appointment or scheduling a meeting to chat with your child's therapist. Scheduling and rescheduling appointments will become a part of your routine. If this is easy to do, then you know you've found a therapist who cares about the little details, which is always a great sign. 
5. Ask about Insurance and Payment Options
Here's the truth – speech-language therapy is another thing to add to your monthly budget. While this may not be your main concern, it is still important to find an option that works for you financially. If you plan to use your insurance, you will first need to check that the practice accepts your particular insurance. Most speech therapy centers have a list of insurance providers that they work with listed on their sites. (Find ours here.) If not, you can go directly to the insurance provider to see the therapists covered by your insurance.  
If you aren't going the insurance route, you definitely want to get the best value for your money. Spend some time window-shopping for hourly rates and packages to choose the one best suited to your family.
6. See What Other Parents Say
Finding a therapist who is trustworthy and credible is key. Before you make a decision, you should see if there are any parent references or recommendations for the therapists you are considering. 
In some cases, the therapist may be referred by your primary doctor, but some additional vetting doesn't hurt. You can look online for reviews or comments from other parents about their experience. This can give you an idea of what to expect. If you have a network of parents, you could also see if there are any recommendations.
This list of guiding factors will help you narrow down your search for the right therapist. At the end of the day, the most important thing is to find a speech-language pathologist who your child feels comfortable with and you feel confident about.